Woohoo, Special Offer Time!
Wednesday February 24th
Great news - we have a
Double Star Dust
offer starting today. You get twice the usual amount of Star Dust with any purchase.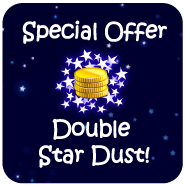 Click Here To View Offer
Along with the new higher Gold amounts, it's a great time to treat yourself (or a friend!)
The special offer is only around for the next couple of weeks, don't miss it...