Jurassic Wildlife!
Monday September 21st
A brand new set of wildlife has arrived in Fairyland today, and it's one we've received numerous requests for on our forums... Dinosaurs!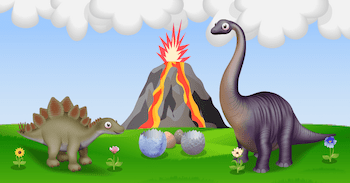 There are 8 Dinosaurs in all. Part of the fun of this challenge is that you need to attract/spot many of the original 'level-up' Fairyland wildlife along the way, and different Gardens will need to attract different ones, so Fairyland should come alive with many old favourites once again :)
Full details, as always, can be found in the Wildlife Guide, under the "
Dino
" tab - be sure to read it carefully before you start!
The Dinosaurs are a long-term challenge which you can dip in and out of, in between other things. And when you successfully complete this challenge, there's also a nice reward at the end :)